News
Intervals Showcase (Nizhny Novgorod) will take place on July 23 at the New Stage of the Alexandrinsky Theater
Intervals Showcase (Nizhny Novgorod) will take place on July 23 at the New Stage of the Alexandrinsky Theater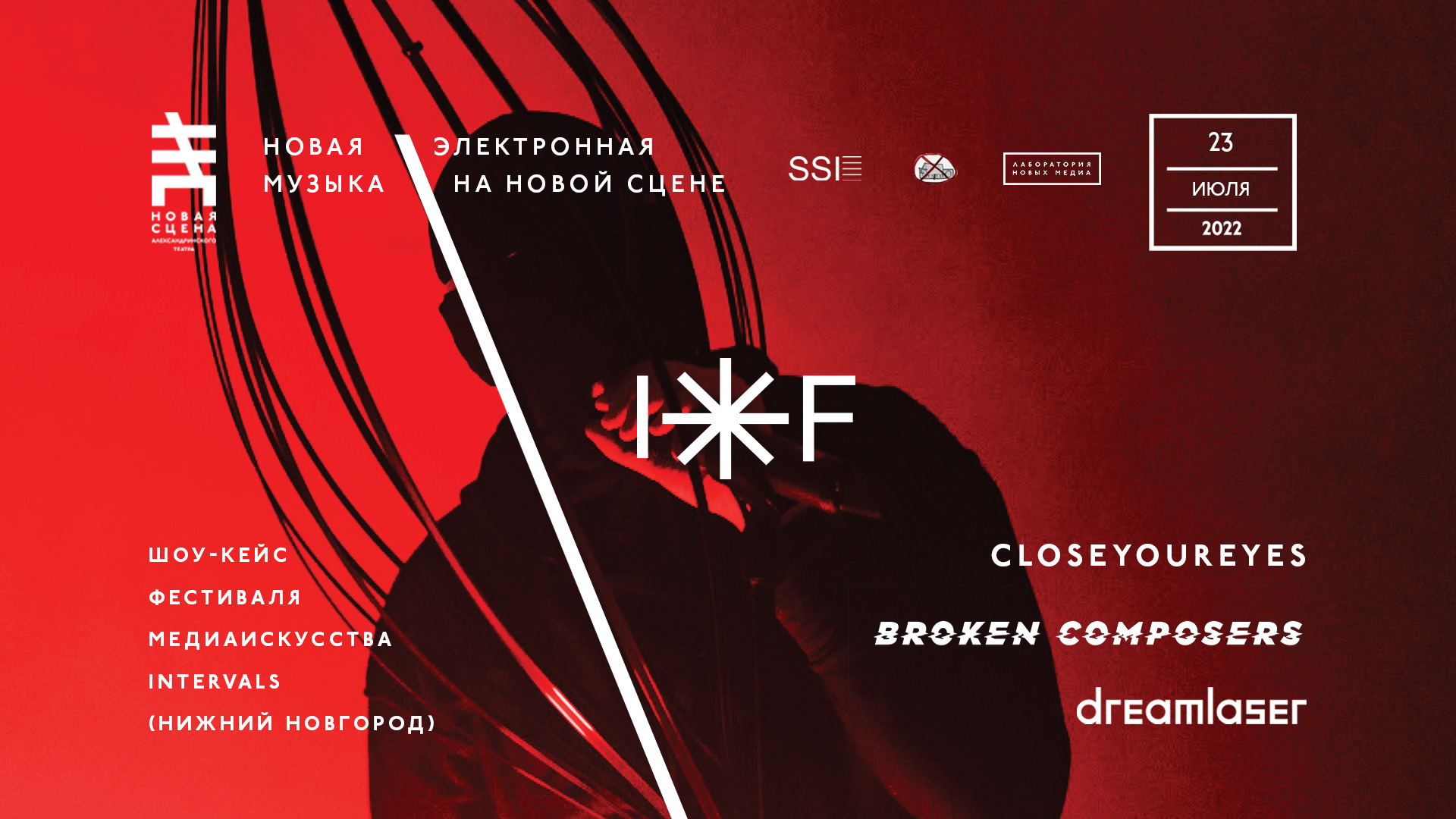 The theatrical media performance Broken Composers X dreamlaser will be a part of the Intervals 2022 pre-festival program.
Tickets: https://clck.ru/rbcE5
The team of the International Festival of Media Arts INTERVALS continues to work with new venues outside of Nizhny Novgorod. The organizers of Intervals will present the theatrical audiovisual performance by Broken Composers (Moscow) in collaboration with the dreamlaser studio (Nizhny Novgorod) on July 23 on the New Stage of the Alexandrinsky Theater.
The live set of closeyoureyes, a musician from St. Petersburg, will set the stage for the performance.
Following the organizers' concept, the music performance will be accompanied by the media projection in the hall and lobby of the New Stage. The visitors will enter the performance space as soon as they cross the threshold of the theater.
Performance v0.1 (Broken Composers x dreamlaser)
The theatrical audiovisual performance consists of three elements: live electronic music, a powerful hi-tech laser show and a plastic performance.
Live electroacoustic music is created on stage by the Broken Composers duo in real time from the acoustic noise: prepared flutes, handmade stringed instruments and unconventional percussion beats like chains, steel pipes and hammers. The noise is synthesized through a computer and transformed into slow, hypnotic rhythms.
The laser show combines two radically different approaches. On the one hand is the patented Laser Lumia system, where a laser beam operated by the artist is passed through rotating glass prisms. On the other hand - a hi-tech set-up specially developed for the performance by the Intervals festival team and the dreamlaser multimedia studio specialists.
The choreography is a broken ballet beyond the limits of contemporary dance, staged in collaboration with Artem Khoroshilov - the principal of the State Moscow Classical Ballet N. Kasatkina And V. Vasilyov. It is built on the physical intricacy and complexity, and the interaction with the laser beams and the audience.
Program of the evening:
Beginning: 7:30 pm.
40 minutes - closeyoureyes live
Intermission
50 minutes - Broken Composers x dreamlaser